Interactive Stuff


Have a Question?
I'm happy to answer questions, but please realize that I don't have all the time in the world to do so. That's one of the reasons I created this site- to educate people and save myself the time spent repeating myself. Before you e-mail me with a question, check the articles, previous letters and my message board for the answer, otherwise I may just refer you back to one of these sources. Please confine your questions to those regarding budgies, cockatiels and kakarikis. These are the species that I work with. If you have a question about another species, ask the appropriate Toolady expert. Also, be aware that I do NOT answer sick bird questions. If your bird is ill, see a veterinarian IMMEDIATELY.
Join the Mailing List
This site isn't always updated frequently. Why not join my mailing list to receive an e-mail notification every time a new article is posted? Just send me an e-mail with "Mailing List" in the subject line to be added.
Do You Have a Disabled Bird?
Share its story here at Feisty Feathers, like Lucky's owner did! How did the bird become disabled? How did you obtain it? Was there anything that could be done for it? How has it coped with the disablitiy, and how have you changed its environment to help out? Don't forget to include photos!
Photos Needed
I'm always in need of quality bird photos for various articles. The images I need most are "action" shots of birds playing, bathing or exhibiting emotions (this last one would be nice for a behavioral article). Original illustrations would also be appreciated, so long as you are the artist.
Know of a Kakariki Breeder?
Kakarikis can be hard to locate. If you know of a breeder not listed on my network, please e-mail me their contact information. I also need links to other kak sites.
Take the Survey!
Or see the results of past surveys here.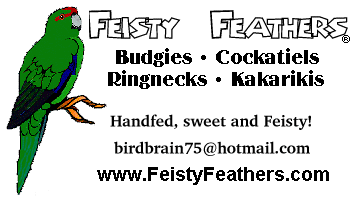 Go Back
All articles and images contained on this site are © 1998, 1999, 2000 by Feisty Feathers unless otherwise noted and may not be reprinted or used in any way without the author's permission.