Kakariki Network
Welcome to the Kakariki Network!
Decent kakarikis can be difficult to locate. Hybridization and inbreeding are not uncommon. The Kakariki Network is my personal attempt to create a database of kakariki breeders and other resources. Breeders are listed free of charge. If you breed kakarikis but are not on the list please send me your information so it can be posted. Likewise, if you happen to know someone who should be on the Network please let me know. Keep in mind that this is simply a database of breeders- I cannot vouch for the quality of birds. Please use the same caution you normally would when shopping for new birds.

Please note that many breeders operate out of their homes, and may withhold certain information for security and privacy reasons.

* Possible hybrids.
United States
Outside United States
Aviary/Breeder
Phone Number
Country
Region
E-mail
Species/Mutations
Ships?
Kerckhove Gerrit
(00)32 (0)56 70 13 02
Belgium
Unknown
gerrit.kerckhove@pandora.be
Redfronted (cinnamon, fallow, yellow, ino, pied)
Unknown
Apostolios Ragos
0032/11 44 19 73
Belgium
Bocholt
apostoliosragos@skynet.be
Unknown
Unknown
Peter Wouters
Unlisted
Belgium
Unknown
wouterscalant@skynet.be
Redfronted (Normal, recessive pied, dominant pied, Lutino, Cinnamon, Fallow)
No
G & S FLIGHTS
(780) 484-3294
Canada
Edmonton, Alberta
sshulak@compusmart.ab.ca
Unknown
Unknown
Safe Haven-Birds R Us
(780) 486-3868
Canada
Edmonton, Alberta
safehaven@powersurfr.com
Unknown
Unknown
Firemoon Aviaries
Marci Frost
None at this time
Canada
Chilliwack, B.C.
firemoon@telus.net
Redfronts (golden
checkered, cinnamon, pied)
Canada only
Four Oaks Aviary
(250) 748-9581
Canada
Duncan, B.C.
songbirdss@shaw.ca
Unknown
Unknown
Grasdal, Larry, Shirley & Cody
(250) 746-4127
Canada
Dunan, B.C.
lgrasdal@islandnet.com
Unknown
Unknown
Ponytail Joe's Pet Supplies
Unknown
Canada
Peachland, B.C.
ponytailjoes@hotmail.com
Unknown
Yes
Safe-Haven Aviary
(604) 820-8795
Canada
Lower Fraser Valley, B.C.
craig_varney@telus.net
Pied
Unknown
Debby Osborn
(519) 753-8393
Canada
Brantford, Ontario
nannydeb6@yahoo.ca
Unknown
Unknown
Deyo's Aviary
(519) 683-4154
Canada
Dresden, Ontario
l_deyo@hotmail.com
Unknown
Unknown
The Empty Nest
(905) 664-7833
Canada
Stoney Creek, Ontario
jdawson@downingproducts.com
Cinnamon, lutino & pied
Unknown
Doug MacKinnon
(905) 643-1322
Canada
Stoney Creek, Ontario
ve3gj@sympatico.ca
Redfronts, Yellowfronts
No
Golden Creek Bird Farm
(705) 689-9121
Canada
Ontario
hosterey@bconnex.net
Lutino & pied
Yes
Just Birds
(519) 839-4959
Canada
Windsor, Ontario
LNEAL@NETROVER.COM
Unknown
Unknown
Son-Shine Acres Quarter Horse Farm & Aviary
(807)937-4445
Canada
Dryden, Ontario
lavpet@dryden.lakeheadu.ca
Unknown
Unknown
Twin Peaks Aviary
Unknown
Canada
Ottawa, Ontario
twinpeaksaviary@rogers.com
Unknown
Unknown
AngelWing Aviary
Unknown
Canada
Dunham, Quebec
angelwingaviary@hotmail.com
Pied
Unknown
LGL Aviaries
(450) 926-8780
Canada
Greenfield Park, Quebec
lgl@aei.ca
Unknown
Unknown
Volières Pluri-Ailes
(450) 887-1986
Canada
Lanoraie, Québec
info@pluri-ailes.com
Yellow-fronted*
Unknown
R.W. van Opbergen
0031255534511
Holland
Unknown
info@kakariki.nl
Redfronts (goldcheeked, lutino, yellow, pied & fallow-pastel)
Unknown
Peter Wauben
Unlisted
Netherlands
Zuid- Holland
Peter.Wauben@orange.nl
Redfronts (wildcolour, goldchecks-dominant pied), Yellowfronts (wildcolour)
No
Morné Strydom
+27731451045
South Africa
Johannesburg
m.a.strydom@mweb.co.za
YELLOW yellow-fronteds
& Splits, Golden Cherry Red-Fronteds
Possible
Pablo Caride
+34627442697
Spain
Vigo-Galicia
pablo.caride@gmail.com
Red fronted- goldcheeked, pied, cinnamon, fallow
within Spain/Portugal
Dragan Mihalièek
++ 385 98 1623 099
Zagreb
Croatia
dragan.mihalicek@zg.htnet.hr
Red-fronts & Yellow-fronts
Wild colors only
No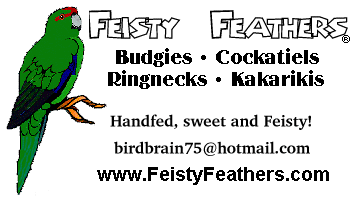 Go Back
All articles and images contained on this site are © 1998, 1999 by Feisty Feathers unless otherwise noted and may not be reprinted or used in any way without the author's permission.