Birds for Sale
What you see is what I have. If it isn't listed I don't breed it. Sorry but I don't ship, so if you live outside of my general area you're out of luck.
Last Updated: 1/25/2007
WE HAVE MOVED TO NORTHERN CALIFORNIA.
Now servicing San Jose/Santa Clara.
Unfortunately, my current schedule does not allow any time for handfeeding. There is no breeding scheduled at the moment.

Species
Status
Available
Cockatiel
Nymphicus hollandicus
On break.
None.
Budgie
Melopsittacus undultatus
On break.
None.
Scarlet-chested parakeet
Neophema splendida
On break.
None.
Indian Ringneck
Psittacula krameri
On break.
None.
Red-fronted Kakariki
Cyanoramphus novazelandiae
On break.
None.
Yellow-fronted Kakariki
Cyanoramphus auriceps
On break.
None.
Feisty Feathers Policies:

All handfeds are guaranteed to be tame.
Handfed cockatiels are guaranteed to be sweet; handfed kaks and budgies are guaranteed to be feisty (but tame).
Handfed budgies are available on request and require a $15 deposit.
I never sell any birds I know or even suspect might be remotely unhealthy.
I keep accurate records. If you wish to know the medical history of a bird you wish to purchase or that of its parents just ask.
I do not sell unweaned chicks to anyone except people I know for a fact are competent handfeeders.
Handfeds are all weaned to a varied diet including (but not limited to) seed, pellets, Crazy Corn and veggies.
All birds offered for sale are babies. I do not sell breeder pairs.
Sex is typically not guaranteed. I am usually very accurate, but most of my pairs are colony-bred so infidelity is possible. Tiels are sexed based on color and/or behavior. Budgies are sexed based on cere color.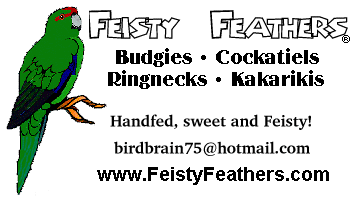 Go Back
© 1998-2006 Feisty Feathers