Newcastle Update
My original article seems to have sparked quite a response. This update is will be ongoing and will include any new information I happen to gather. However, I need to stress several things before we get to any updates.
My phone number and my auntís phone number and address are NONE OF YOUR BUSINESS. I take privacy very seriously and if I wanted people calling me about my site then I would have posted my phone number on it. Someone actually managed to get my phone number and address and were planning to post them both online. Others have been bombarding me with e-mails asking me to call them or give them my auntís number. I have not been disclosing the city in which this took place for fear that someone may get Lin's number and try to post it as well.
About half of the people requesting her number want to confirm the story, while the other half are worried bird owners who just want to talk about what happened. If you are one of the first, see the updates below. If you just want to chat with her, stop and think about what youíre asking. Sheís been through a very painful experience and doesnít need to be reliving it with everyone who wants to hear the story firsthand. If you have comments youíd like me to pass along to her, fine. E-mail them to me and Iíll snail mail them to her. If you have a more active interest in this (press, those of you organizing task forces to combat the problem) please e-mail your phone number and Iíll once again snail mail it out. I canít guarantee sheíll respond, but I can guarantee sheíll receive your messages. Iím doing my part as an information relay but itís up to my aunt and uncle to take action.
Now that the unpleasantness is behind us, letís get to the updates. Like I said, I will be adding more as things progress (hopefully theyíll progress). Newer updates will be listed at the top, for easier viewing with repeat visits. Anyone who e-mails me expressing an interest in this matter will automatically be added to a temporary mailing list (not the Feisty Feathers mailing list), which will notify you whenever this page is updated. If you wish to be removed just let me know.
01/31/03
My aunt, Linda Stephens, has spoken to The Daily Bulletin. You can find her interveiw within this article. Again, please send any correspondence to her through my e-mail.
01/17/03
I finally get a hold of my uncle. Lin has not yet called the AFA and I stress to Mike how important this is. I tell him I will be mailing them e-mails I receive regarding the matter. I also try to convince him that they need to get more active about this and should talk to the AFA and perhaps the press. Mike concurs. I ask him some more questions about the event. He said it took place the Saturday after Thanksgiving. He also confirmed that the birds were being killed with bags. He said they were "see-through" and looked like they were made out of "PVC plastic." After being placed in the bags the birds were gassed using portable CO2 cylinders. He also confirmed an earlier rumor, not mentioned previously in my article because it was at the time just a rumor, that the officials were shooting loose birds with pellet guns. Mike said that he witnessed them using the guns on loose chickens. I updated my original article once again to reflect the new information.
01/14/03
First real response to article. AFA suddenly wants to talk to me, as do many bird owners, club presidents and one reporter. I call Leslie Gillis of the AFA and tell her the situation. She expresses concern in particular about the way the birds are being put down. My original article says they are stuffing the birds into plastic bags and gassing them. I tell her this may have been speculation on my aunt's part, since she wasn't actually there. I call my aunt and tell her the new situation. She agrees to call Leslie but doesn't want to talk to the press at this time. I decide to change the wording of my article regarding how the birds were killed, since it has not yet been verified.
12/26/02
Original newcastle story posted.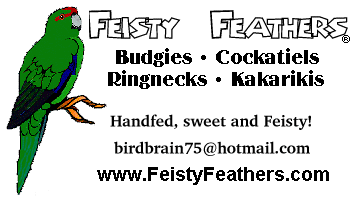 Go Back
Articles and images contained on this site are © 2003 by Karen Trinkaus unless otherwise noted and may not be reprinted or used in any way without the author's permission.