Product Reviews: Cages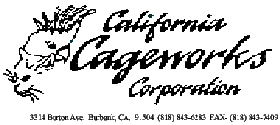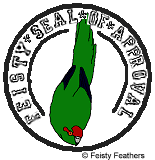 California Cageworks has quality cages of all sizes for very resonable prices. I have two of them myself: one aviary and one large breeder cage. They do well outdoors; after several years outside mine show no signs of rust or deterioration. The only problem I found was that the aviaries are kind of wobbly without support beams. Always buy their pre-assembled cages unless you want to spend a day with sore fingers and lots of cursing.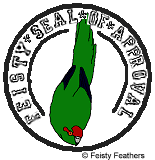 I can never say much about the companies that make large parrot cages because I don't have any large parrots to buy them for. My guess is that most of them are pretty much the same and only vary slightly in design. The one "parrot cage" I own came from Inglebrook. It comes with a shelf underneith for storage (though I think it could store more if the sides were enclosed), some vertical bars and a playpen on top. The thing I probably like most about it however is the ease at which plexyglass can be attached to the sides and back. My conure always had a habit of flicking fruit on the wall and the plexiglass prevents this.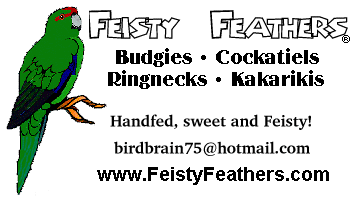 Go Back
© 1999 Feisty Feathers